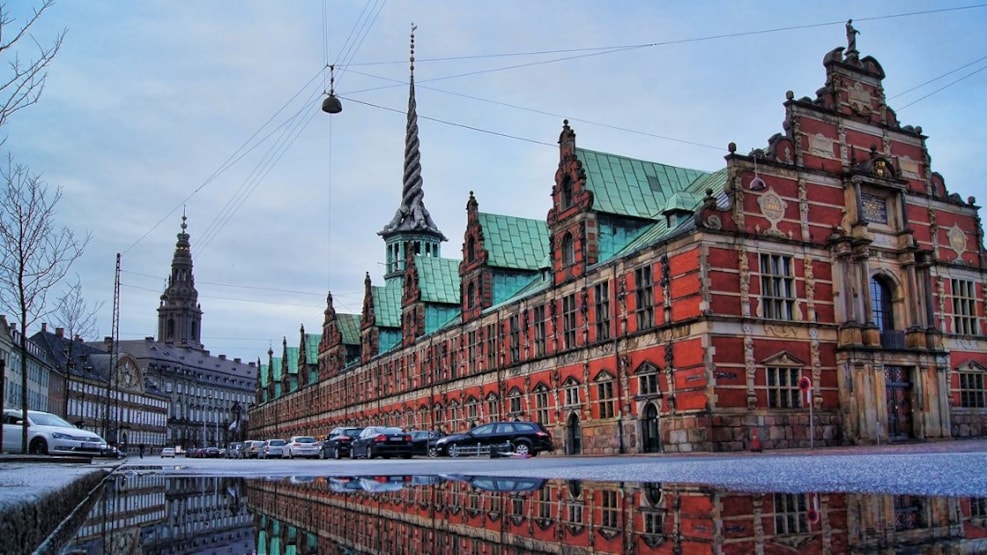 The Old Stock Exchange (Børsen)
One of the oldest buildings in Copenhagen, and once the financial centre of the kingdom of Denmark.
Topped with four entwined dragon tails, The Old Stock Exchange dates back to 1625 and is one of the oldest buildings in Copenhagen. A key sight on the city's skyline, it also has a mysterious legend. 
King Christian IV had realized the importance of increased trade and commerce, and so he had this grand building erected. At that time, the building had room for at least 40 market stalls. The Old Stock Exchange was then surrounded by water from three sides, so ships could unload their cargo directly at the wharf in front.
Making cannon balls from the roof
The Old Stock Exchange was built in Dutch Renaissance style. King Christian IV had originally covered the roof with lead, but during the Swedish occupation of Copenhagen 1658-59, much of this lead was removed to produce cannon balls, and the holes in the roof were only partly covered with tin and tile.

At the end of the 19th century was the building roofed with copper, as you see it today.

The four intertwined dragon tails of the dragon spire are topped by three crowns, symbolizing the Scandinavian empire – Denmark, Norway, and Sweden.
The legend of the spire
According to legend, the dragon-tailed spire guards the building against enemy attacks and fires. Is it true? Well, surprisingly, the Old Stock Exchange has many times been mysteriously spared from damage when fires have broken out in neighbouring buildings.

Christiansborg Palace (the present day Danish Parliament) has burnt down on several occasions, and even recently in 1990, a fire broke out in the Proviantgaarden in Slotsholmsgade (Slotholm Street). On this occasion, as before, the Old Stock Exchange survived unscathed.
Today the Old Stock Exchange are used for gala dinners, conferences, parties and other events and is not open to the public.