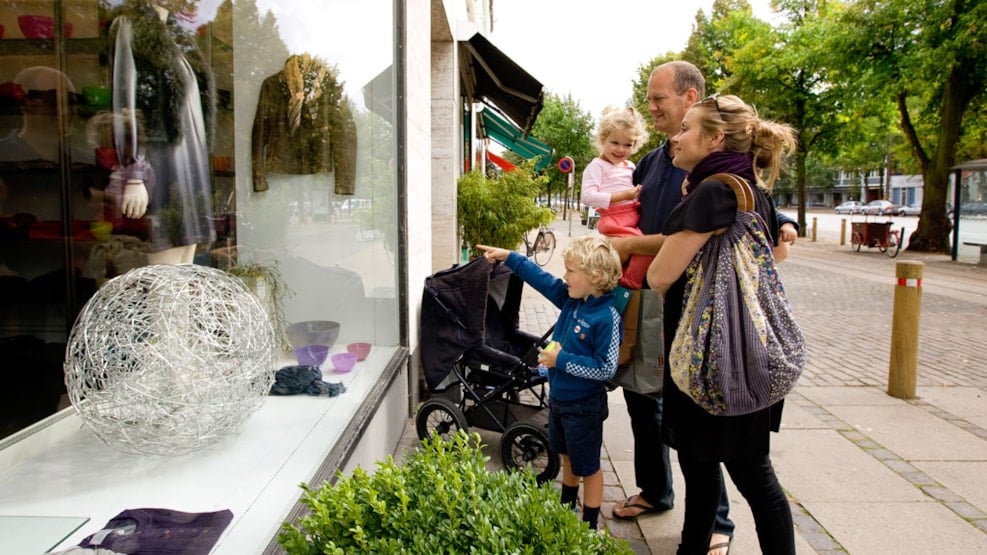 In Østerbro
Good tips for Nordre Frihavnsgade:
Attractive metal signs, gadgets, retro interiors and kitchenware. Explore the Con Amore shop, at number 88. Antiques and interiors at Portobello, 50, Nordre Frihavnsgade. Kid's designer clothes at Okker Gokker, 10, Nordre Frihavnsgade. Great quaint toys at Pif Paf Puf, at number 23.
The lure of lux, lustre and glamour at Pour Quoi, 13, Nordre Frihavnsgade. Exciting shoes at Lofina, at number 8.
Second hand:
Good second hand children's wear and toys at Red Barnet, at number 61. Choice second hand clothes for mum and the children at Greibe & Kumari 2hand clothing at number 60. Just for her at Ive Lina, 10, Nordre Frihavnsgade, and for her as well as him at Mi Gusta, at number 32.
Treat yourself:
Homemade, filled chocolates or hot chocolate at Peter Beier Chokolade, 20, Nordre Frihavnsgade. Danish pastries and bread at Reinh van Hauen, 5, Nordre Frihavnsgade.
Classic Danish open-faced sandwiches at Lenes Smørrebrød, 63, Ndr. Frihavnsgade. Danish delis, ready-to-go dishes from Madtjenesten, 31, Nordre Frihavnsgade. Mediterranean delicacies, wine, flowers and veggies at Kervan, 68, Nordre Frihavnsgade.
Cafés:
Laid-back café atmosphere at: Canteen, 52, Nordre Frihavnsgade, or at Matins on the pleasant square Victor Borges Plads, half way down the street. Weather permitting, you can enjoy coffee or lunch outside.