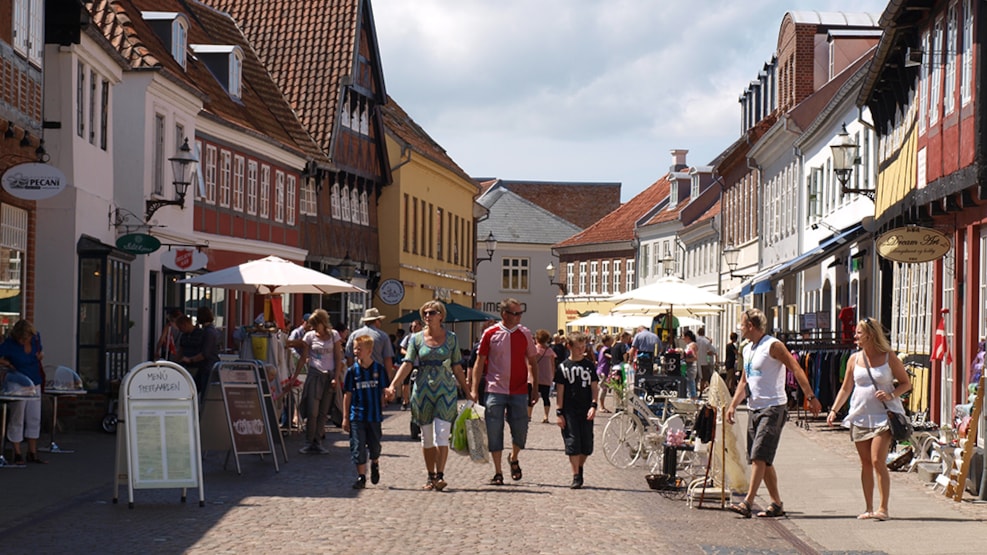 The pedestrian street in Ribe
Built as a dam in 1250 along Ribe River now busy shopping street in the oldest town of Denmark.
Overdammen, Mellemdammen and Nederdammen - running on a dam over Ribe Å was built in 1250 by King Christopher the First who wanted the river water power to run the mills. The dam divides the river into three small cascading streams which allow for just three mills, the outer mill, middle mill and the King's mill. The middle mill was converted to produce electricity in 1903. In 1975, the electric turbine was demolished to open the area for greater water flow. Today, only the outer mill has a water wheel.

On Nederdammen is Ribe Nørreport's foundation marked with black cobblestones in the street's surface. It was constructed in approximately 1280 and marked the city's limit, here one had to pay tax for the goods being taken into the city to sell. Nørreport was torn down in 1843 because it became too low and too narrow for a load of hay to pass through it.

Along the main road were the merchants' gabled houses and farms and looked like they still do at Nederdammen 34 and 31 (which contains Denmark's  oldest timbered work still used on a daily basis, built in 1487) and at Nederdammen 28, Mellemdammen 18 and 16, and at Overdammen 10, 8, and 3.