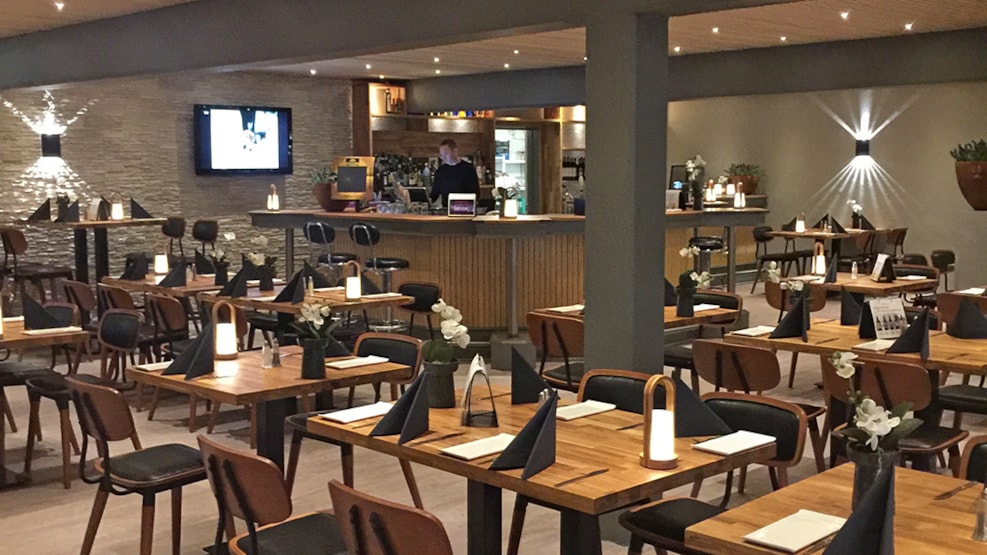 Restaurant Dillen
This lovely restaurant with a wide menu focusing on the Danish cuisine is located in a cosy and casual setting. The restaurant is next to Hotel Pejsegården's bowling- and activity centre, so you have the chance to combine the food experience with entertainment.
Family-friendly restaurant in Brædstrup
Visit the legendary Hotel Pejsegården's cosy and relaxing restaurant where everyone can find a dish that satisfies the taste buds. The restaurant is surrounden by life and activity from Pejsegårdens bowling alley and amusement arcade. Nonetheless, it is a relaxing experience to eat in the modern restaurant. Dillen is open for lunch and dinner.
Tasty dishes for the whole family
Dillen's menu offers a bit of everything. From a fine selection of classic Danish open sandwiches to juicy steaks to fish, pasta, and typical café dishes. Here, well-known Danish favourites like fried pork belly with parsley sauce and wienerschnitzel are competing with exciting dishes such as braised pork cheek, lemon sole filet and salmon pasta with Casper sauce.
There's also something for the children – all the classic dishes for children are on the menu. And in case there are vegetarians in your company, there are also dishes for them.
Finish the meal with one of the delicious desserts, a cup of coffee, or maybe a cocktail from Pejsegården's comprehensive drinks menu.
For lunch too
For lunch you can sink your teeth into a selection of classic Danish lunch dishes. Enjoy a shooting star, a fried beef tartare, a sandwich or a minced beef steak with fried onion and brown gravy. If you want to spoil yourself then choose a herring plate or a delicious tapas plate.
Today's special
Every day there is a new dish on the menu at a favourable price. The dishes can be ordered both for lunch and dinner.
Dillen to-go
All dishes in Pejsegården's menu can be ordered as takeaway so you can enjoy the well-cooked dishes in the comfort of your own home or hotel room. Call +45 75 75 17 66 to place your order. A fee of 10 DKK is charged per dish.
Stay a little longer – go bowling
Dillen is located next to Pejsegården's bowling- and activity centre. So why not have fun at the bowling alley or the pool table? There is also an amusement arcade with more than 30 fun slots and games.