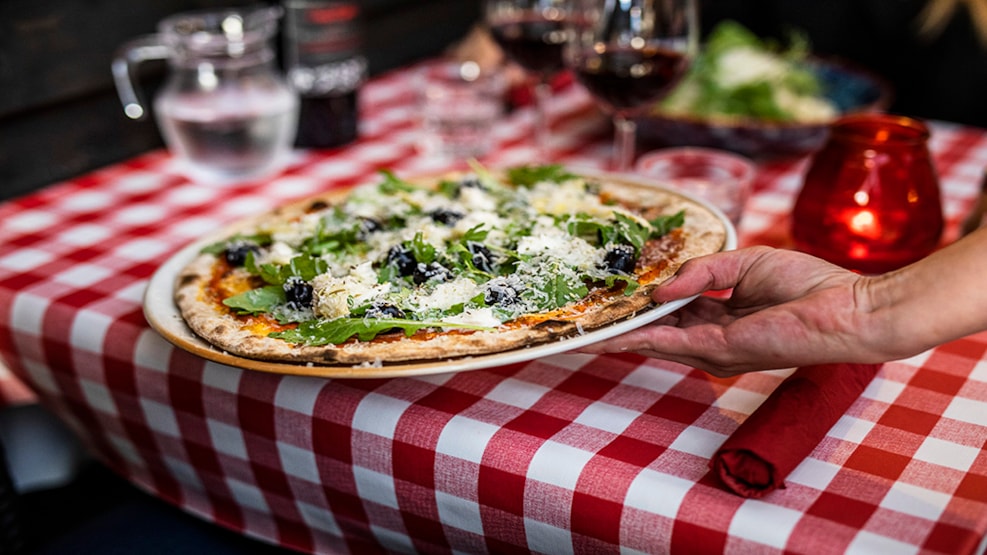 Restaurant Mamma's
Restaurant Mamma's is a classical Italian restaurant that focuses on a cozy ambience and famous Italian classics. 
Italian dishes - Danish hygge
The restaurant is located at Grønnegade right next to "Horsens New Theatre". It is the only Italian restaurant in the Latin Quarter of Horsens. In the summertime, you can enjoy the delicious classical Italian dishes in the atrium. Seated at the red and white chequered tables alongside with the sounds of Italian music and trickling water, Restaurant Mamma's gives you a little bite of Italy.
At Restaurant Mamma's the prices are reasonable, the servings quick and we make our pizzas from only the best ingredients. Besides pizzas, we serve pasta, appetizers, great steaks, desserts and children's menus.
Enjoy Danish dishes for lunch
 For lunch Restaurant Mamma's offers a classic Danish menu focusing on "Smørrebrød" (open Danish sandwiches). You can choose from 19 different types - anything from egg and shrimps to smoked eel or roastbeef. Smørrebrød is typically served with Danish schnapps and Mamma's offers four different brands. 
Danish favourites such as "Stjerneskud" (shooting star) and fried beef tartare are also on the menu.
Would you prefer to eat Italian for lunch? Don't worry - all pizza and select pasta dishes can be ordered during the day. 
In the heart of Horsens - close to experiences
Restaurant Mamma's is located in the Latin Quarter in Horsens by the city's busy shopping centre. From here there is a 15-minute walk to the big music venues in town, FÆNGSLET, Forum Horsens and Nordstern Arena.  There are also many exciting museums near the centre - all within short distance of Mamma's. 
Come and visit Restaurant Mamma's – you can look forward to an authentic experience.