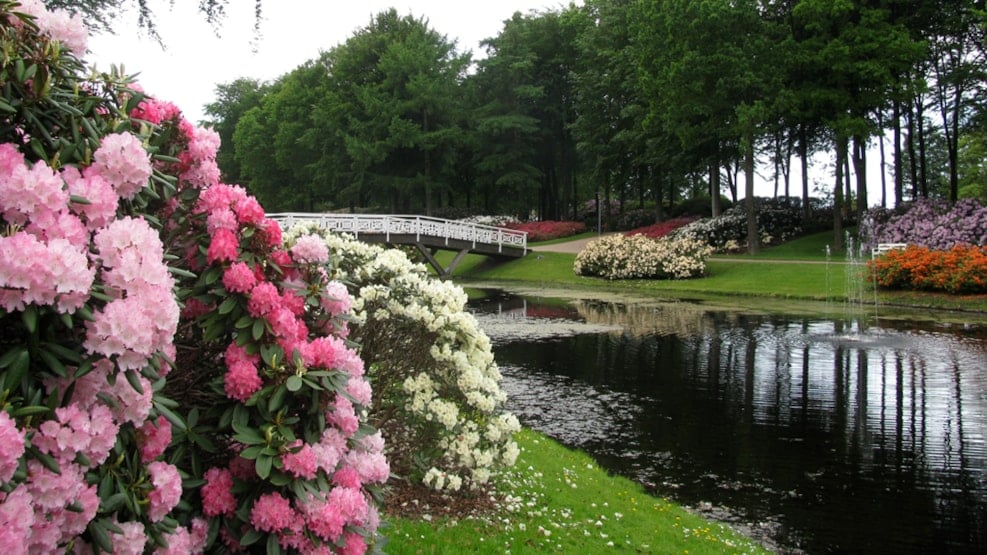 The Rhododendron Park
The Rhododendron Park in Brønderslev is the largest rhododendron park in Northern Europe. Here you'll find 10.000 rhododendrons divided into more than 130 different species, which blooms in May and June every year.
The idea behind
The Rhododendron Park was landscaped in 1994. The park is located in Brønderslev and was landscaped on the basis of an idea a group of locals had in 1989. They wanted to create a Rhododendron Park in the old park of Hedelund, and therefore it is surrounded by old beech trees, which are more than 100 years old.
About the park
The park covers around 7 hectares (about 17 acres) and is very unique since it is the home of 10,000 Rhododendron plants - including 130 different species. A number of other parks with more kinds exist, but the special thing about this park is that here you'll find beds each with a specific kind of rhododendron, which give all guests a chance to see the different kinds separately.
The park is open all year, and at different places in the park you'll find tables and benches and two bridges overlooking the idyllic lake. Further, you'll find a playground for children and a tree pavilion, which is called "Den Runde Pavillon" (the Round Pavilion). Here, a number of events are hosted during the year like concerts and summer evenings with dancing.