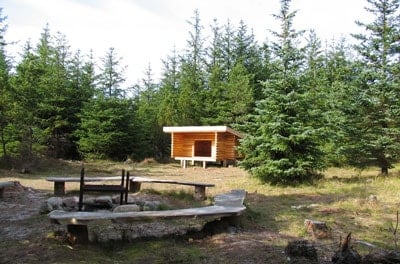 Shelter in Stenbjerg Dune Plantation in Thy National Park
Schutzgebiet in Stenbjerg Klitplantage im Nationalpark Thy
No. 88 The place is located in the western part of Stenbjerg Klitplantage 200 meters east of Redningsvejen and 750 meters west of the bicycle route Vestkyststien.
The place is placed among spruce trees and has shelter from all sides. 
Fireplace with barbecue and benches. Firewood for bonfires can be collected in the forest. The shelter can contain 4-5 persons.
If you arrive by bike go by Istrupvej. 
1800 meters south of Stenbjerg follow a grawel-paved forest road to the west by "Vej 66"