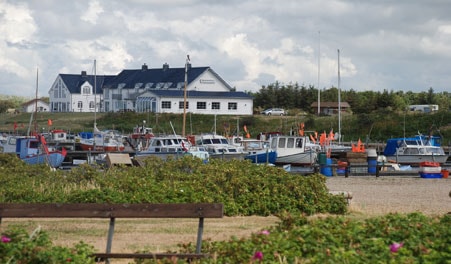 Skaven Harbor
Skaven Harbor is a lovely little fishing village close to a large cottage area. The harbor has existed since 1972, and offers many opportunities for the whole family. The harbor has, among other things, a nice playground, beautiful beaches down to Ringkøbing Fjord and exciting boats in the harbor.
Skaven Harbor is a small but cozy harbor, which has existed since 1972.
At Skaven Harbor you have a good opportunity to go for a walk on the beach down to Ringkøbing Fjord, and enjoy the water or the beautiful sunset. In addition, the place also has good conditions for surfers, and there is a nicer and newer playground for families with children. Fresh fish can also be bought at the harbor from one of the local fishermen.
You can sail to Skaven Harbor both day and night, but only in visible weather. In addition, the port is also part of the Freeport Scheme, which means that everyone who is a member of this association can stay for free for 3 nights in the port.
Skaven Harbor is located by Skaven in the beautiful West Jutland, and has been home to Skaven Bådlaug since 1988.
Close to Skaven Harbor you will find Skaven Camping, Skaven Hus, Restaurant Tex-Mex and a wealth of beautiful nature experiences.