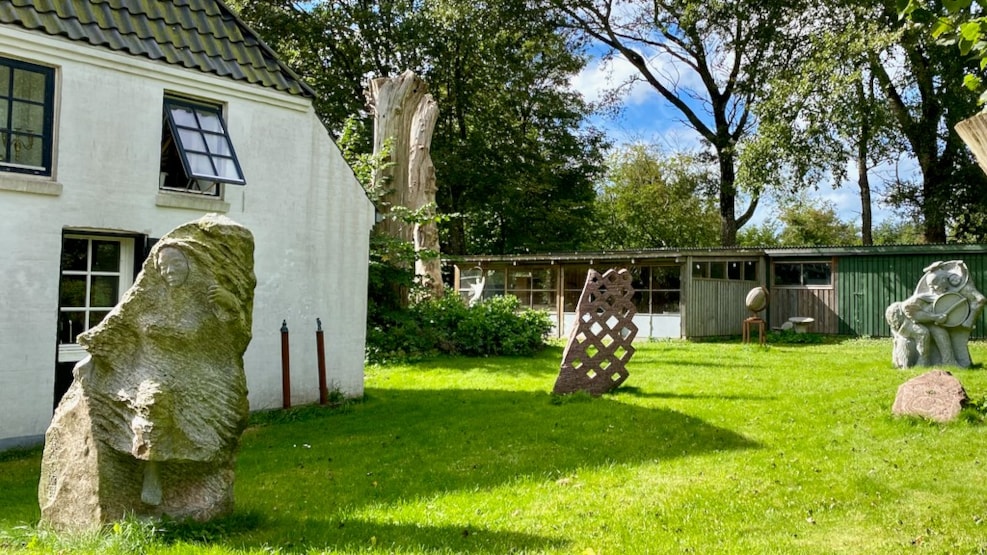 Skulpturhaven Thy - Sculpture Garden
The sculpture garden in Svankjær in Thy borders right on National Park Thy. The Sculpture Garden is an international exhibition space for art with over 100 sculptures outdoors and around 400 indoors.
It was created by visual artist and sculptor Kirsten Barlit and architect Jørn Bojer Snejstrup.
The garden surrounds the old school, which Jørn Snejstrup has restored in an unusually beautiful way, so that the house itself is worth a visit.
Kirsten Barlit works with large sculptures in iron, steel and various types of cement, and smaller ones in bronze, stoneware, raku and clay silver. She has also worked with objets trouvés and is involved in land art. Kirsten also likes to paint, but preferably on other things than canvas.
The sculpture garden holds regular exhibitions with both well-known and lesser-known artists. Many of their works have remained in the Sculpture Garden, some of them are also for sale.
The sculptures in the garden are very varied, here are works by expensive artists, impressive granite sculptures from Greenland, busty women in wood from the local community, works in iron, stainless steel and wood. Gloomy sculptures that provide food for thought hang in the trees, another embraces a tree trunk, and the columns have an intriguing story. At the parking lot, there is a troll department that gets a new troll every year.
Come inside too
The studio in the old schoolroom is a working workshop, (You are welcome to use the workshop if you rent the small adjoining B&B apartment). Here hangs a completely unusual work, namely 60 terracotta plaques for the 1st row of texts in the church year.
In the exhibition next door you will find paintings, exciting sculptures in raku, stone, wood, etc. as well as glass experiments and crosses of driftwood and iron.
In the most beautiful attic you will find sculptures in leather, bronze, stoneware and more as well as a large collection of African sculptures in ebony and soapstone.
Outdoors it is open every day all year round, indoors by appointment.
Overnight at B&B in Skulpturhaven
The house also houses a B&B in two apartments. Read more about B & Bs in Skulpturhaven here.