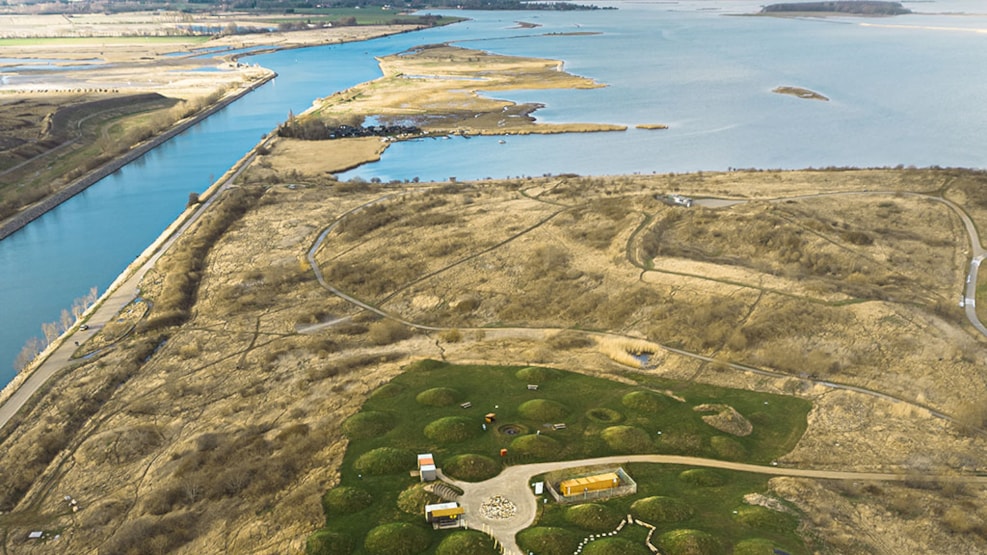 Stige Island - peninsula of Odense
Explore Stige Island anew! In the past Stige Island was used as Odense Municipality's landfill. It is now completely cleaned up and reclaimed as a natural oasis and activity area, with multiple vantage points. The landscape resulting from the clean up is hilly and now houses a wide range of plants and wildlife. Underneath the hills, Stige Island now creates gas which is extracted for energy production. The process is described in detail on information signs throughout Stige Island.
It is also possible to experience Stige Island by night and make use of the many public facilities and shelters available for booking on the island. For information about how to book, see below.
Activities currently available there include:
A dirt track for mountain bikes
Hiking trail
A unique playground as well as large swings over a vantage point
An intensive military-style circle training route
Bird watching
Public facilities available include:
Toilets that are wheelchair accessible and handicap friendly
Indoor shower
Outdoor water tap, to wash sand off your feet or top up on drinking water
A fire pit with free accompanying firewood (the amount of firewood can vary)
A sheltered bench area, where you can grill and eat
A slipway / boat ramp
An ice cream kiosk, which is open during the summer months,
Shelters with a fire pit, which are booked through Sussi Jensen: .+45 65 51 27 26
FYI - Tents are not allowed due to the risk of underground gases! - Book a shelter!