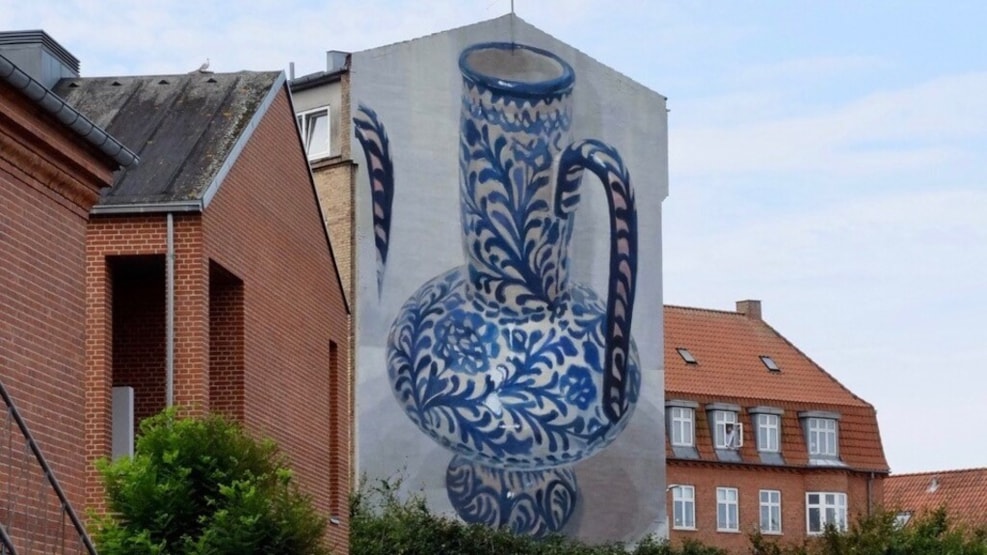 Street art "Out in the Open" - Manolo Mesa - Borgmestervænget 10
The Spanish artist Manolo Mesa has made his mark in Aalborg with a large gable mural in the heart of the city.
KIRK Gallery has now added their eighth gable mural, which is part of the gable mural project "Out in the Open." The gable mural is called 'Una casa anónima' (An Anonymous House).
The artist Manolo Mesa is world-renowned for his still life gable murals, where he uses ceramics and porcelain, often found in the places where he works. Manolo Mesa was born in 1989 and has been creating gable murals since 2002, starting in his hometown of El Puerto de Santa Maria with his brother.
Regarding his works, the artist has stated, "In the objects, we find an inherent meaning in themselves, by virtue of the significance we already attribute to them. Through these objects, we find a connection with the space and the everyday objects we use, something found, something inherited, anonymous yet full of words that contain a familiar theme."