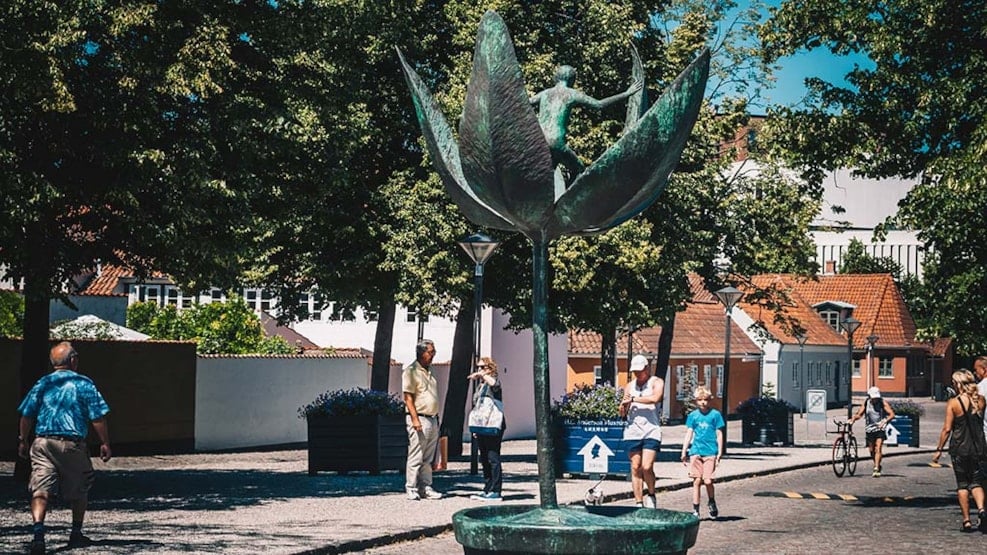 Thumbelina - Sculpture by Lotte Olsen
Thumbelina stands in her flower, looking for the swallow that is coming to take her away to warmer countries.
This sculpture is based on the fairy tale Thumbelina, written by Hans Christian Andersen. The story is about a woman who longs for a little child, and after being given a grain of barley, she grows a little child in a flower pot. The child is called Thumbelina because she is the size of the woman's thumb. The little girl goes through much in her life, from almost marrying a toad to meeting a helpful swallow.
The sculpture is made in bronze, is 3,14 meters high and weighs around 600 kg. It was revealed in 1994.
Fun fact: Sculptor Lotte Olsen learned the casting technique from Eiler Madsen, who created The Tin Soldier, which you can see in Overgade.
Lotte Olsen (1945 - ) was a student at the Royal Danish Academy for Fine Arts. She lives in Odense, works at Hollufgård Artist Residence (just outside of the city centre) and The Funen Printmaking Workshop (in Hans Jensens Stræde). Her technique when working with bronze is galled Cire Perdu, which is a technic that sculptors have used since ancient times.