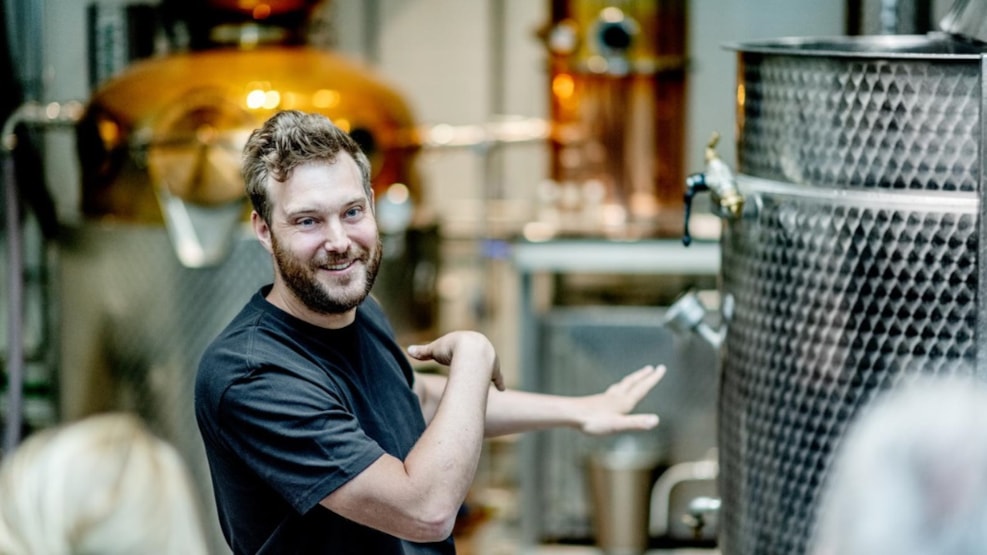 Thy Whisky - Tour and tastings
Thy Whiskey is open for visits all year round.
The distillery has a shop with a tasting room which is open every weekday and the first Saturday of the month from 11 to 15.
In addition to whiskey, in the shop you will also find a selection of other goods made from the farm's raw materials. You will always find a couple of freshly tapped special beers brewed from our malt, Thyboost made from our milk and smoked club from our young animals.
Drop-in tasting (not tour)
Find a seat in our tasting room and get an introduction to Thy Whisky. We serve three glasses of our whiskies, and talk briefly about how we make award-winning whiskey from the grain from our fields.
- Reservation not necessary, just come by.
- DKK 75 per set
Tour and whiskey tasting
On a tour and whiskey tasting at Thy Whisky, we take you around the whiskey distillery, the cask warehouse and our organic farm. You will learn how we make our whiskey and finally taste our whiskey under expert guidance.
- Price: DKK 200 per person. Duration: 2 hours.
- Every Wednesday (English) from April to October
- Every Thursday (Danish) all year round
- Every 1st Saturday of the month
- Daily tours during the summer holidays
Book a place on Thy Whisky's website