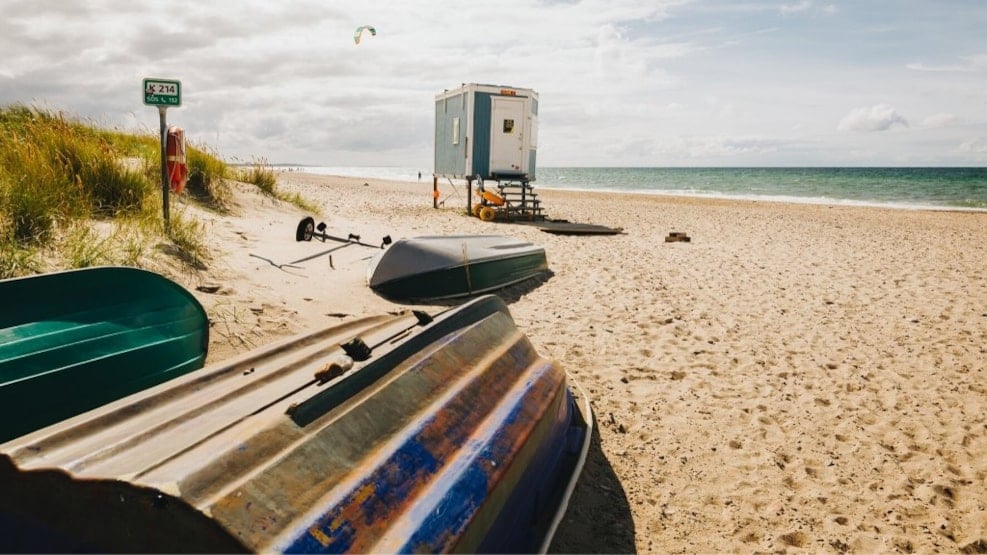 Tisvildeleje Beach
Tisvildeleje has a wonderful family-friendly sandy beach with clear water.
For centuries, when the Tisvilde beach was mostly used by fishermen, an annual market took place in Tisvilde town.
Pilgrims flocked to Helenekilde to drink from the healing spring water. The original market tradition ended in the 1920s when Tisvilde had become a popular destination for seaside holidays.
The first tourists who started travelling to the countryside in the summer quickly fell in love with the charm of Tisvilde, which is located near coastal woodlands and not far from Copenhagen. The train connection all the way from Hillerød and the opening of the railway stretch in 1897 to Helsinge increased the interest in Tisvilde.
Family-friendly sandy beach
A beautiful family-friendly beach with plenty of sand and clear water. The small bathhouses create a very special atmosphere, recalling a bygone era. The beach has two staffed lifeguard posts during the peak summer season. Always ask the lifeguards about water conditions before bathing.
Practical
Parking is available near the beach. By the town's main street there is also a large car park. It is advisable to seek parking space early in the day during the high season when the weather is good. The car park has toilet facilities. If you are arriving by train, there is just under one kilometre from the station to the beach. Along the way, you will pass small charming cafés and shops.
Disability-friendly beach
There is disabled-friendly parking and access to the beach for wheelchair users from the pier/bay furthest to the east. There are also disabled-friendly toilet facilities at the kiosk.