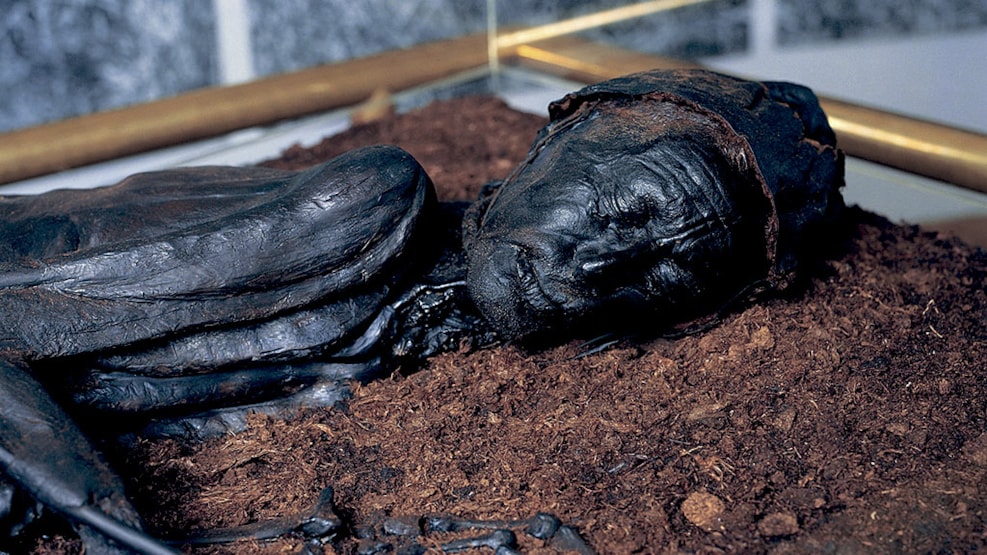 The Tollund Man
In 1950, a dead body was found in a bog near Silkeborg, and this should turn out to be quite a sensational find. The bog body, which was later named the Tollund Man, happened to be between 2,200-2,400 years old and exceptionally well-preserved.
On 6 May 1950, a dead body was found in a bog near Bjældskovdal about ten kilometres west of Silkeborg. The police was called by two brothers who were out cutting peat, but suddenly stumbled upon a body. The brothers were convinced that the deceased had passed away quite recently, since the body was in such good condition.
Archaeologists Were Called
When they told the police that the body had been found 2.5 metres below the peat, the police immediately realised that the case was probably one for Silkeborg Museum rather than the police. Therefore, both police and museum officials went out to the bog where they saw the crouched bog body lie about 60 metres out from solid soil. It was clear to everyone that this was a significant discovery, and an archaeologist from Aarhus was sent for in order for the excavation to be conducted properly.
An Exciting Discovery
Examinations of the Tollund Man revealed that it was a man between 30-40 years of age who had been strangled with the leather strap he still wore around his neck. Later scans of the bog body have disclosed that the man probably died from hanging. Today, Tollund Man is on display at Museum Silkeborg and is famed for being one of the best-preserved bog bodies in the world. Not far from where the Tollund Man was excavated, another body was found in the 1930s – the Elling Woman. She too can be seen at Museum Silkeborg.
Listen to the song: TOLLUND MAN - Please Tell Us What Your Name Was
See what others are sharing on Instagram