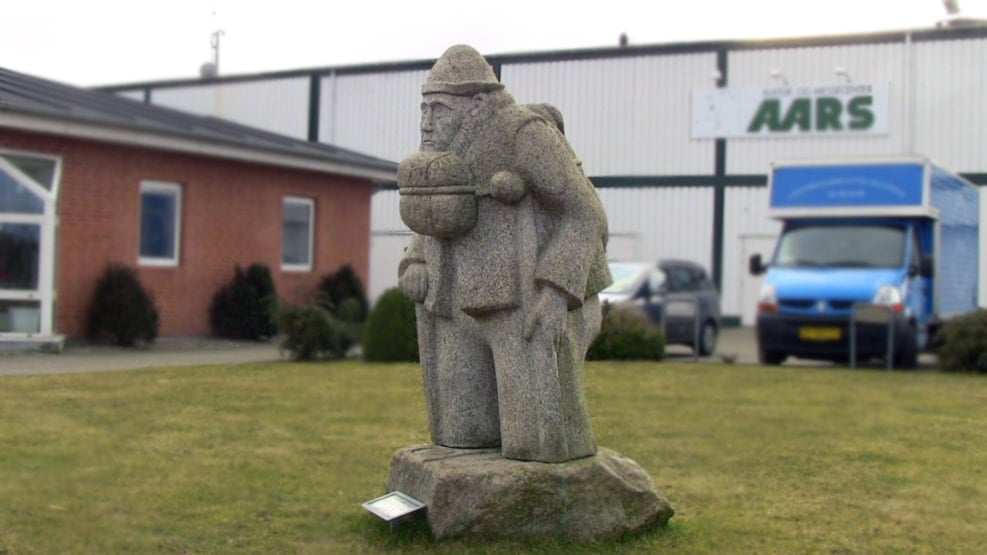 "Tordenkalven"
Visit the sculpture Tordenkalven, which is a tribute to the local vagabond and cripple Christian, who lived in the 19th century.
"Tordenkalven" Cultural and Exhibition Center Aars - Vesthimmerland
Tordenkalven - originally named Christen Christian Larsen - was truly one of a kind. He was born in 1816 in Stenildvad in Aars parish and was an "illegitimate child" (his parents were not married). The family was very poor. At the age of 7, he started begging for food for himself and his family. When he was to be confirmed, clothes had to be borrowed from no less than seven different places for him to look presentable.
After confirmation, Christian worked on several different farms, where he stood out because of his enormous strength. When he was called up for military service in Aalborg, he was selected for the infantry. This did not suit Christian at all, and he made himself so impossible that he was discharged after only two days of service.
After being sent home, he was employed at Lundbæk Manor near Nibe. Here, a fateful event occurred: one day, Christian attempted to ride a wild and uncontrollable horse, but the horse threw itself backward with Christian on its back. The result was a shattered thigh bone that healed incorrectly. The leg became crooked and considerably shorter than the other. Christian became crippled and had to rely on both crutches and a cane.
The accident meant that Christian could no longer work, so he began wandering from farm to farm. He became a vagabond and remained so until his death in 1891. Occasionally, he earned a small income as a scrap dealer. He quickly acquired a string of nicknames, with the most commonly used being Tordenkalven (The Thunder Calf).
Tordenkalven was welcome everywhere, and he could always get a meal. This was because he was a kind of walking newspaper; he knew everything that was happening in the area and delivered greetings and messages from family and friends. He had exceptional speaking skills and a sense of humor. He could always sing a song, often quite daring and naughty ones as well.
The sculpture itself is created by the artist Jacob Vestergaard, also known as "the stone farmer." The sculpture was a gift from Aars Bank on the occasion of their 100th anniversary. Today, it stands at the Cultural and Exhibition Center Vesthimmerland.