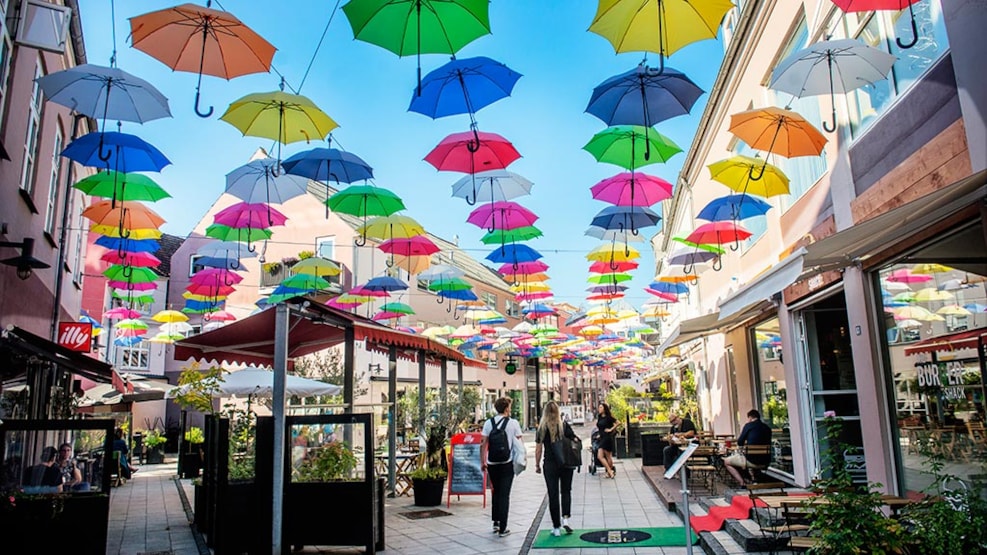 The umbrellas of Vejle Midtpunkt
Every year from April to October, you can experience the colourful umbrella sky above Vejle Midtpunkt, an area also called Vejle's Latin Quarter which is located in the northern part of the pedestrian street and offers an almost southern atmosphere.
Vejle Midtpunkt is located at the crossroads between Tønnesgade and Nørregade by the northern section of Vejle's pedestrian street. The Midtpunkt area – combined with the upper section of Nørregade, Paladspassagen, Nørretorv and Vestergade – is also known as Vejle's Latin Quarter. Within short distance, you will find an exciting mix of restaurants, cafés, bars, specialty boutiques, smørrebrød stores, groceries, a baker, chocolatier & pastry shop as well as residential homes.
During the summer, events are held on stage in Vejle Midtpunkt.