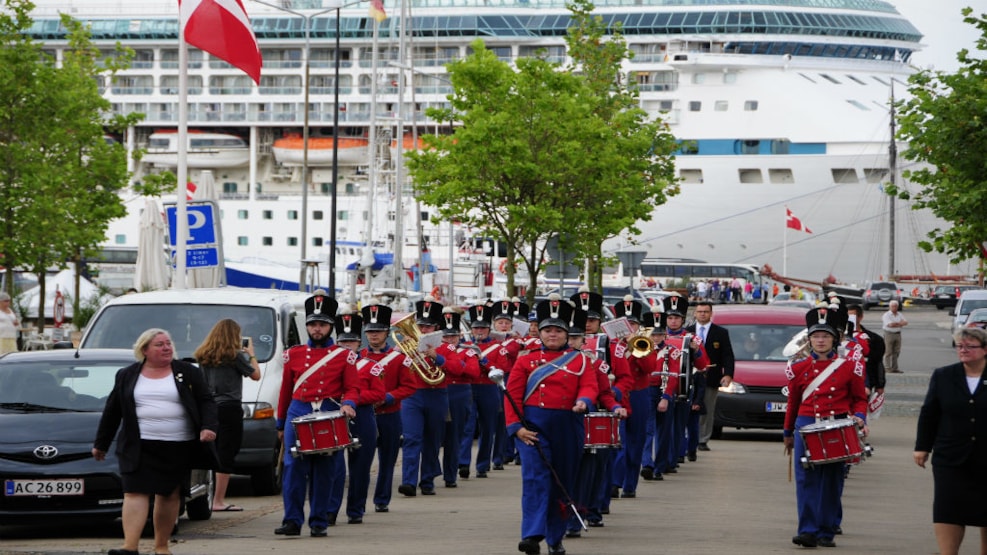 Cruise day activities in Fredericia
When cruise ships drop anchor in Fredericia, the streets are filled with extra life and activities. Everyone is guaranteed a nice and "hyggelig" day. 
The ships are welcomed by music from Fredericia's own marching band 6. Juli Garden, who are lined up on the quay with their uniforms and instruments. The guests are also surprised by a cannon salute - after all, they have arrived in a city of military history. 
Many of the local citizens come down to the quay to see the ships and join the volunteers and the employees from the port and Visit Fredericia in welcoming the cruise guests. 
Some of the guests go on pre-booked tours to other attractions in the region, but a large number of guests spend their day in and around Fredericia. Here, some go on guided tours in the city and on the ramparts. It is also possible to rent bicycles and explore the city on two wheels. 
There is usually a little extra going on on cruise days. Most of the activities are free and great for tourists as well as locals. 
There is always a flea market at J.B. Nielsen's Square by the Old Harbour, a veteran car show at the harbour and the small container shops at the harbour are open as well. Of course, the shops and restaurants in the city centre are also open for business. If one fancies a trip to a museum or gallery, the Town Museum and Galleri39 are always open on cruise days. 
A small train can also be seen in the streets. It is a shuttle train that takes the passengers back and forth between the ship and the city centre. 
The huge ships draw a lot of local citizens as well as people from the neighbouring cities. So Fredericia is buzzing and everyone is in a great mood. 
In the evening, the ships sails off to the sound of cannon salutes and marching band music. Even more locals come down at night to hear the music and wave goodbye to the guests.