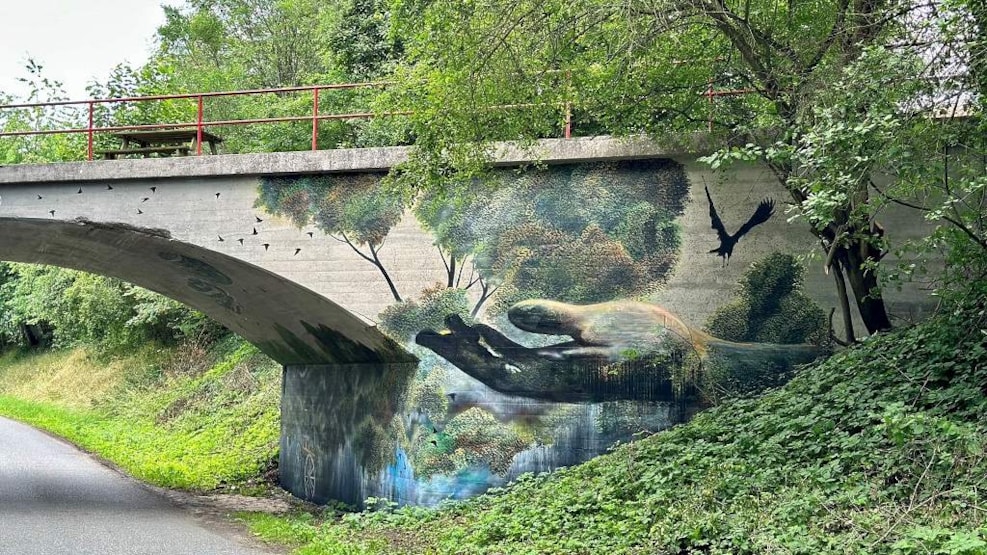 Street art in Langå
Art decoration of the old railway bridge in Langå.
Trains frequently crossed on the track between Nyborg and Svendborg on the old railway bridge from 1933 in Langå. However, since the railway traffic and the railway were terminated in 1964, the bridge lost its function and has been in disrepair ever since. Nevertheless, the bridge has continued to be a central part in the cityscape of the small village.
For many years, the local village council has had a desire and a vision to transform the neglected bridge into a landmark for the town.
The village council composed a development plan for the village in 2018 in collaboration with Nyborg Municipality, and during this collaboration the idea to decorate the bridge arose. Since then, the village council has worked purposefully to realize the project. The art project is financed by Nyborg Municipality and from funds from foundations that the village council has applied for.
The artist Kristian Vodder Svenson started the art project and the decoration of the old railway bridge during the summer of 2023. Kristian is the creator of the artwork and its overall expression is also an excellent example of his unique style, with elegant brushstrokes that create a lively and phantastic natural landscape. During the process, the artist has invited the village's residents to contribute with their own ideas and inputs to the motif.
One of the motifs depicts the excavation of the viaduct. The excavation is visualized with a locomotive and a group of men all holding spades. This motif is a reproduction of an old photograph that was found in the archives and helps convey the story behind the creation of the bridge.
Inside the viaduct you can also see a depiction of the historic Langåvogn (Langå wagon). Remains of the wagon were excavated in 1877, where a collection of burnt iron and bronze fittings were found alongside some jewelry. The wagon dates a few hundred years before Christ and is considered to be a sensational archaeological find from the Bronze Age.
On both sides of the bridge, there is also a hand that either welcomes visitors or waves them goodbye upon exiting the village.