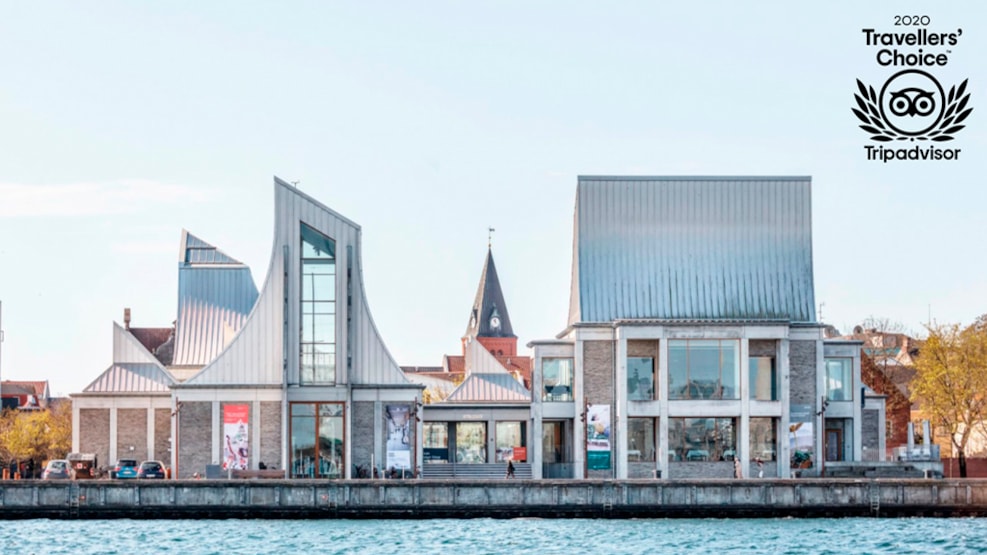 Utzon Center
The Utzon Center in Aalborg is an experimental culture and knowledge center, where architecture, design, art and communication comes together. A magnificent experience for the whole family.
In the middle of Aalborg Waterfront, you will find the beautiful Utzon Center. A building created by the world-renowned and award-winning architect Jørn Utzon in collaboration with his son Kim Utzon. The work was completed in 2008 and was the last work by Jørn Utzon before his death the same year.
At the Utzon Center you can experience exciting exhibitions in beautiful surroundings. Here the architecture is brought to life, and to a degree where all your senses can come into play. In other words, the Utzon Center integrates the architecture with your body - exactly in the spirit in which Jørn Utzon created the center. The exhibitions include the permanent 'Utzon Gallery', which guides you through Jørn Utzon's life and career, as well as other changing exhibitions. In addition, the center also offers tours, lectures and events.
Jørn Utzon's source of inspiration
The inspiration behind Jørn Utzon's architectural wonders, including the Utzon Center, must be found in his upbringing in Aalborg - the several cement factories inspired Jørn Utzon to let concrete become an essential element in his later architecture, while the sea, ships and the shipyard where his father worked was a vital source of inspiration throughout his life. The Utzon Center is a perfect example of this special approach to creating in both architecture and design.
Jørn Utzon comes home
With the growing interest in Utzon's work, it is appropriate that Utzon Center is built on the waterfront of his hometown Aalborg, right in the middle of the maritime environment that inspired his early development. It is Jørn Utzon's wish that Utzon Center should not be a museum, but rather an active and dynamic focal point for architecture, design and art. Therefore, it is also obvious that the center will be established in connection with the Department of Architecture and Design at Aalborg University. In correlation with Jørn Utzon's humanistic approach to architecture, Utzon Center is not constructed as a monumental building, but as a series of smaller pavilions built around a courtyard environment, so it is possible to sit outside sheltered from the Limfjord winds that Jørn Utzon recalls from his childhood.
A culinary experience with a magnificent view
As a guest at the Utzon Center, you can complete your eventful day with unique gastronomy. This can be done at Restaurant JØRN, which in addition to a culinary experience of fresh and seasonal ingredients, also offers a beautiful view of the Limfjord.
Utzon Park
If you go for a walk around the Utzon Center, you are in Utzon Park. A park that lets the green nature become a natural part of the otherwise grey waterfront. In the park, which is surrounded by beautiful trees, you will find dormitory housing and concrete benches, all created on Jørn Utzon's ideas. The benches were originally intended for the foyer of the Sydney Opera House.
Read more about the Utzon Center…
Presentation in English
At Utzon Center, various signs, displays audible elements are presented in English. Brochures and written information is available and guided tours can be arranged to accomodate English speaking guests.
Travel sustainably with bus and train in North Jutland
Getting around North Jutland with public transport is effortless. Plan you trip with bus, train or 'Plustur' on rejseplanen.dk.